Who we are
We are a team of IT professionals with decades of business application and open source experience. We are based in Toronto and we are dedicated to helping Canadian Small to Medium businesses lower their costs and increase efficiency.
We believe that Odoo, an Open Enterprise Resource Planning software suite, is the most cost-effective and comprehensive business application suite available, and we're excited to extend that competitive advantage to you.
What We Offer
---
One easy to use integrated system that will operate every facet of your business operations.

Complete custom implementation, hosting, and support.

Fast, complete deployment will have your business running at peak efficiency.

We provide extensive expertise on ERP implementation, website management and Canadian business specific advice.

Unlike many other partners, we provide assistance and guidance for additional security layer when hosting on premise or on our own cloud.

Mission and Vision

---
Mission: Help Canadian-based companies to effectively implement a cost-effective ERP system.

Vision: Constantly seeking to evolve, grow, and reinvent itself while strengthening the presence of Odoo software in Canada.

Core values

---
Honesty: Maintaining transparency with all our stakeholders, and clients.

Integrity: Upholding high standards of integrity in all of our actions.

Customer Commitment: Committing to helping our clients meet their needs.

Quality: Providing a premium value to exceeds the expectations of our clients.

Teamwork: Supporting a committed team that works together to meet the needs of our clients.

Simplicity: Simplifying all processes for optimal efficiency.

Our Key Differentiators
The most simple, effective and affordable implementation services available with the most cost-effective ERP system in the market, guaranteeing excellent results and exceeding the expectations set.
We'll train your staff, enable them to perform much more efficiently and help increase communication with your customers and employees. We are one of the top Gold Partners in North America, willing to go above and beyond the needs of our customers.
We know that you will be as excited as we are about Odoo's ability to revolutionize the way you do business, so contact us for a demo to experience the results of thousands of businesses and developers working together!
---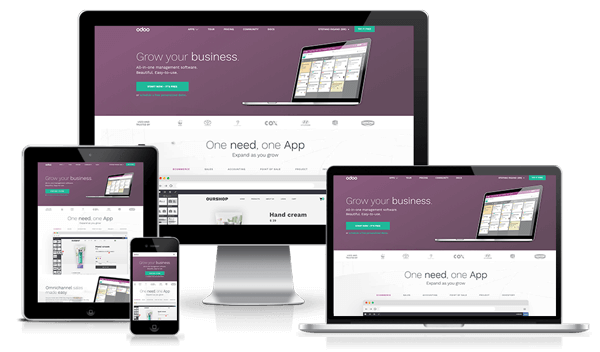 Schedule a free demo to learn more about how OERP and Odoo can benefit your business.